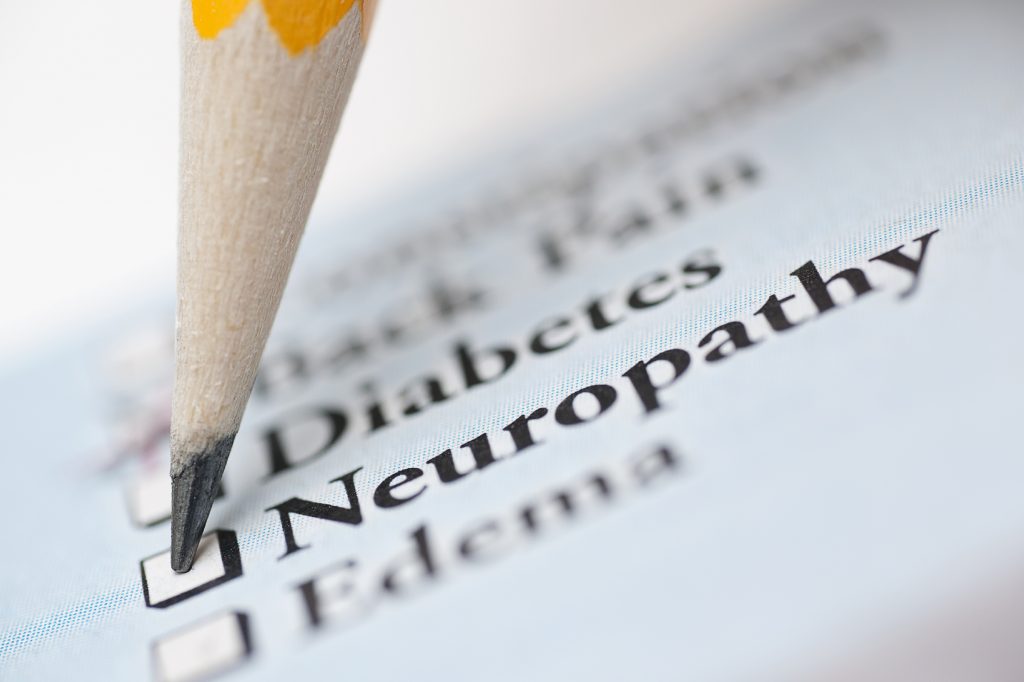 BKP Codex: Up-Version 8.3, a MedDRA up-versioning tool from BKP Technologies, Inc. provides a robust solution for life sciences companies that need to up-version MedDRA/MedDRA J coded terms in Oracle Argus Safety™ to new dictionary versions. Regular up-versioning of MedDRA-coded safety data streamlines regulatory compliance and enhances signal detection capabilities by standardizing safety data. BKP Codex: Up-Version supports a proven workflow built around industry best practices for analyzing, reviewing/updating, and batch up-versioning MedDRA coded terms using a friendly web- based interface.
Features at a Glance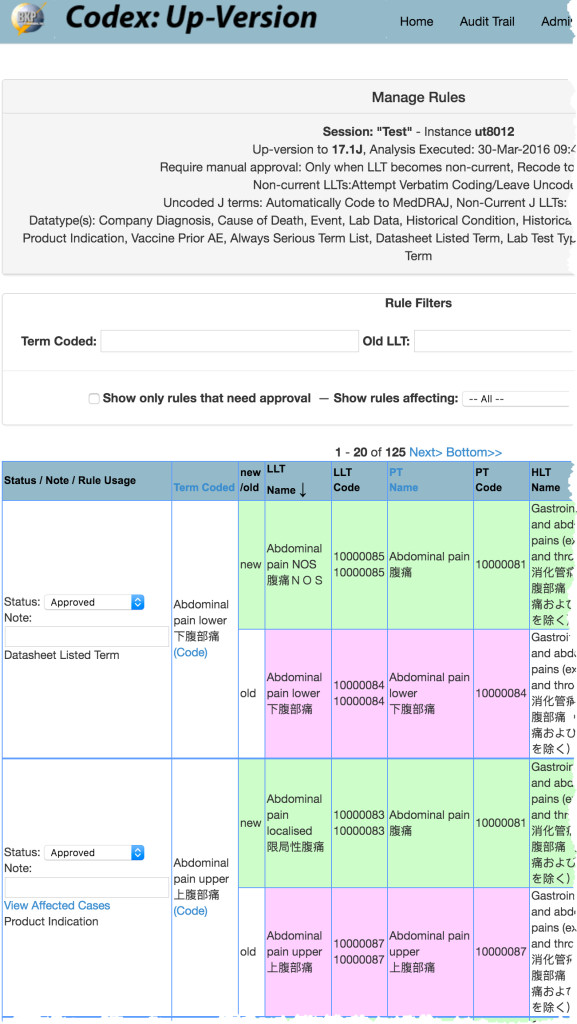 Fully integrated with Oracle Argus Safety™ 8.0-8.2.3
Supports Argus Multi-Tenant
Supports any version of  MedDRA
Full support for Japanese coding with Argus J and MedDRA J
Industry proven workflow:

Analysis of coded term changes

Configurable analysis algorithm
Changed terms marked for  review

Review of term up-versioning instructions

Interactive review of term changes
Manual coding can override algorithm

Batch application of up-version instructions to Argus Safety database

Fast execution minimizes downtime
Preserves Argus audit trail integrity

Comprehensive reports of up-version decisions and results
Complete set of quality documentation to support fully validated use of BKP Codex: Up-Version as a 21 CFR 11, Annex 11 and HIPAA compliant system
Friendly web-based user interface accessible via web browser
Industry Proven Workflow
BKP Codex: Up-Version implements a rule-based workflow, where an up-versioning rule is created for for each distinct verbatim/code pair. These rules can be interactively reviewed, approved or overridden, based on user access roles and then applied in batch to the Argus database.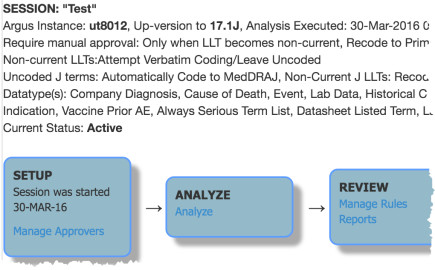 Automated analysis of coded terms generates up-versioning rulesUnchanged MedDRA term rules are automatically approved
Changed MedDRA term rules are flagged for review
Manual review and coding/override of rules
Up-Versioning session level approvals via e-signatures
Comprehensive reports provide decision support, including display of where each verbatim/code pair appears in Argus
Batch application of dictionary up-versioning based on approved decisions
Comprehensive Reporting
Built-in reports provide detailed information at each step of the up- versioning process.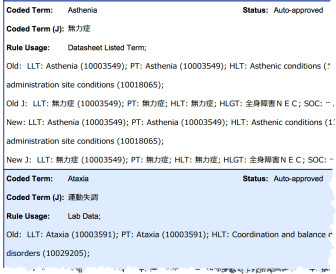 Up-versioning decision support
Pharmacovigilance reporting

Distinct preferred term usage report
Summary reports of all Adverse Event PT changes across database or by product
Japanese LLT changes report

Audit Trail

Fully integrated with Argus Safety audit trail for case and configuration data
Full auditing of BKP Codex: Up-Version configuration, manual coding, and review/approval process supports 21 CFR 11 and Annex 11 compliance
To learn more about the BKP Codex: Up-Version, download our info sheet or contact us for a free consultation.